Musqueam Day of Action #1 to protect c̓əsnaʔəm
In sections: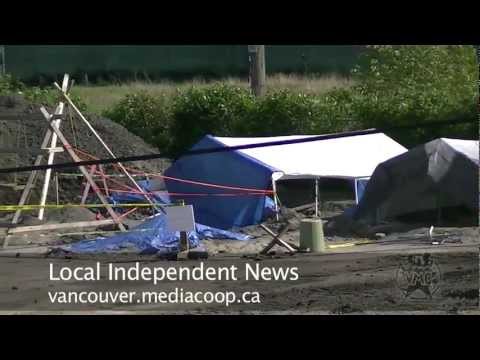 May 29th, 2012
An ongoing dispute over indigenous burial grounds supposed to be turned into condos forced the Musqueam First Nation to take their argument to the streets of vancouver.
In the morning hours a first symbolic digging at Mountainview cemetery was the beginning of a day that increased awareness for first nations issues.
Development plans for for condos were presented to the public and the media.
After a short break from the rain back on site the Musqueam and supporters went to cristy clarks office on 4th and alma. the premier was not available nor were flyers allowed in the building without a written announcement letter.
For the rest of the day the rally went into the street infront of cristy's office and later on robson square in the middle of downtown. The public seemed to recieve the display positive, random people grabbing "protect our ancestors" sign, stopped by to hear the stories and songs.Very few people took offence in the traffic disruptions.
More actions are planned if needed.